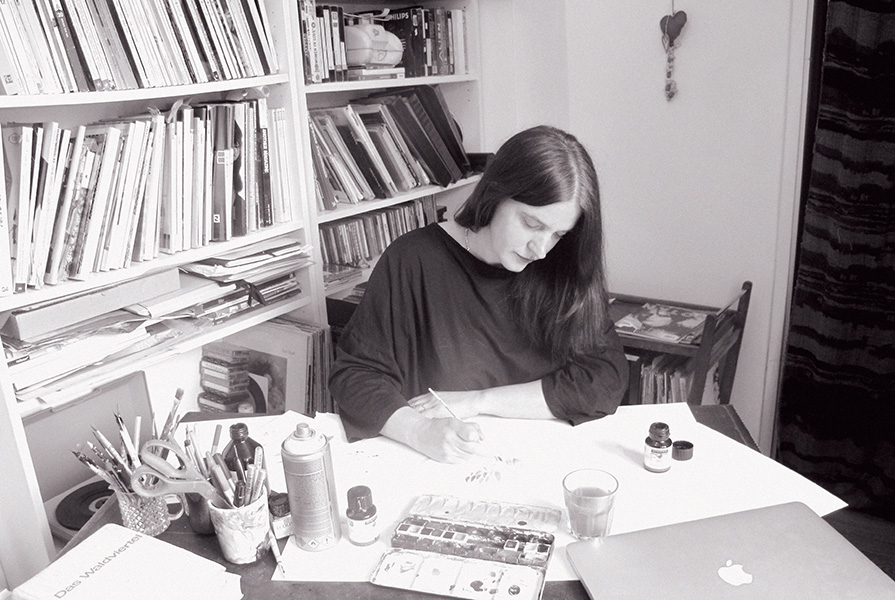 Gina Müller
Phone Office: +43 699 192 36 477
Phone: +43 650 4708647
Sprachen: Deutsch
Müller Gina, geb. 1973 in Horn, studierte von 1992-1995 Germanistik und Philosophie an der Universität Wien, anschliessend Grafikdesign und Illustration an der Hochschule für Angewandte Kunst in Wien (Diplom 2000 bei Prof. Tino Erben), 1998/99 Studienjahr an der Hochschule der Künste Berlin.
Lebt und arbeitet als freischaffende Künstlerin und Illustratorin in Wien.
Auszeichnungen
2010/11 Austrian Sustainbility Reporting Award
Der Palfinger Bericht 2010/2011 wurde zweifach ausgezeichnet:
• Bester in der Kategorie "Große Unternehmen"
• Bester Bericht Österreichs
Ausstellungen(Auswahll)
2003 / 5 Neue Jetzt, Blaugelbe Galerie, Zwettl
2005 / Lassie come home, SKAM, Hamburg, St. Pauli
2005 / Hallo Anne Bonny 2, Lakkrisbudin, Reykjavic, Island
2005 / Hallo Anne Bonny 3, Costum House Gallery, Westport, Irland
2006 / Gezeichnet, Nö Landesmuseum, St. Pölten
2007 / In rios turbolentos, BAC Festival, Distritto Quinto Gallery, Barcelona
2006 / Potential dialogue, RCM Art Gallery, Nanjing, China
2007 / Tagtäglich, Alles ein Wunderland, Galerie Dana Charkasi, 1010 Wien
2008 / Schnee in den Alpen, März Kunstverein, Linz
Gina Müller
Languages: German
Gina Müller was born in 1973 in Horn, Austria. From 1992-1995 she studied German philologyand philosophy at the University of Vienna. Afterwards graphic design and illustration at the University of applied art in Vienna (diploma thesis 2000 in the works of Prof. Tino Erben). 1998/99 session at academy of arts in Berlin, Germany.
Gina lives and works as a free-lance illustrator and artist in Vienna.
Awards
2010/11 Austrian Sustainbility Reporting Award
The Palfinger Sustainabilty Report 2010/2011 won in two categories:
1st Prize in the category "large firm"
Best sustainability award in Austria
Exhibitions (choice)
2003 / 5 Neue Jetzt, Blaugelbe gallery, Zwettl, Austria
2005 / Lassie come home, SKAM, Hamburg, Gemany
2005 / Hallo Anne Bonny 2, Lakkrisbudin, Reykjavic, Island
2005 / Hallo Anne Bonny 3, Costum House Gallery, Westport, Ireland
2006 / Gezeichnet, Museum of Lower-Austria, St. Polten, Austria
2007 / In rios turbolentos, BAC Festival, Distritto Quinto gallery, Barcelona, Spain
2006 / Potential dialogue, RCM Art gallery, Nanjing, China
2007 / Tagtäglich, Alles ein Wunderland, gallery Dana Charkasi, Vienna, Austria
2008 / Schnee in den Alpen, März Kunstverein, Linz, Austria
Active Beauty
ADEG
A La Carte
Amnesty International Österreich
Anstoss/Fuhrer Visuelle Gestaltung
Assmann
Autorevue
Bank Austria
Beauty & Life Magazin
Bestseller
Bilanz Wirtschaftsmagazin
Billa Mitarbeitermagazin
Blaumax
Blink
BÖG Magazin
brand eins
Brandstätter Verlag
Bulb/London
Bundestheater
Büro 8
Büro Meisinger
Büro X
C3 Creative Code and Content
Christian Salic
 Werbeagentur
Caritas
Centurion Magazines
Content Creation
Content Performance Group
Creation/ Production
Czernin Verlag
D+R Verlag
David Schalko
DB Deutsche Bahn
Der Standard
Design by POPPITZ
DIVA Wohnen
DM
Donna Magazin
Dor Film
Eltern Magazin
Erdgeschoß
Fabios
Falstaff Verlag
Falstaff International
Falstaff Karriere
Familienzeit NÖ
Filmladen
Fischer Appelt
Fleisch Magazin
Freundin Verlag
Fotoredaktion
frisch gekocht Magazin
Fuhrer Visuelle Gestaltung
Für Sie
Gil Sei
Graphische Gestaltung im Erdgeschoss
Gruner + Jahr
Gusto
Gusto Unterwegs
Halle 8
Heimat Niederösterreich 
/ NÖN
Horizont
Jahreszeiten Verlag
Journal International Verlag
Jung von Matt/Donau
JWT Wien
Karlsplatz Kunsthallen Café
Kunstradio
Land und Leut ADEG Kundenmagazin
Loisium Wine & Spa Hotels
Manstein Verlag
Martin Weiss
Maxima
Megaphon
Merkur Warenhandels AG
Morgen Magazin
MSF Magazin
Münchener Versicherung
Münze Österreich
Nah & Frisch
Neubau Editorial Design
Neuner Juwelier
NÖ Bergbahnen
NÖ Kundenzeitung
NZZ am Sonntag
Ogilvy & Mather
ÖBB Railaxed Kundenmagazin
Ö1
Österreichische Bundesforste
Palfinger
Polyklamott
Pro Mente
Publicis
PUK
Raiffeisen Jugend
Red Bull Media House
Red Bulletin
RG Verlag
Rock&Partner
Rondo
Rosebud
Rotes Kreuz
Sachsen Magazin
section.d
Selects Magazine
Servus Kinder
Stiftung Esterhazy
Sonnentor
St. Moritz Magazin
Stadt Reutlingen
Style In Progress
Supermagazin/London
Technisches Museum Wien
Telering
Terra Mater
Territory
The Gentlemen Creatives
Transporterbar
Trend
UCM Verlag
Unit F Büro für Mode
Waldviertel Tourismus
Wald Verlag
Wachauforum
Wella Gloss Magazin
Wendy & Jim
Wiener
Wienerin
Wort & Bild Verlag
you&Me