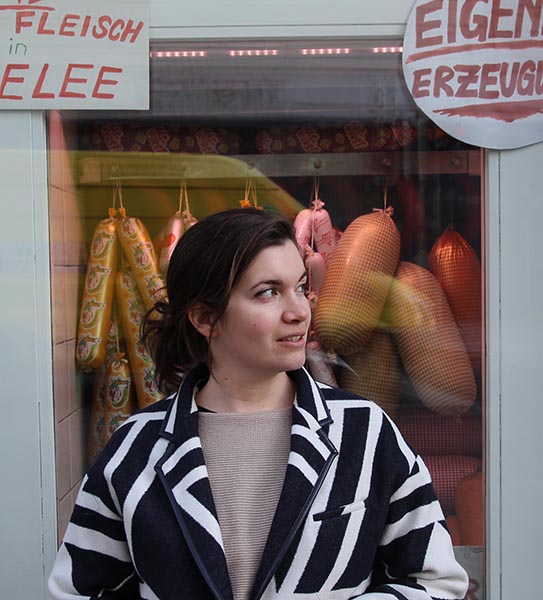 Valerie Tiefenbacher
office@carolineseidler.com
Phone Office: +43 699 192 36 477
valerie.tiefenbacher@gmx.net
+43 69911626272
Sprachen: Deutsch, Englisch
Geboren 1988 in Wien.
Lebt und arbeitet als freischaffende Illustratorin und bildende Künstlerin in Wien.
Aufträge der letzten Jahre waren u.a. Illustration des gesamten öffentlichen Auftritts des Volkstheaters Wien für die Spielzeit 2019/2020, Buch- und Kartenspielillustration für das Forum Umweltbildung, diverse Arbeiten im Bereich Editorial Illustration sowie Corporate Design Entwicklungen für Firmen und Vereine.
Ausbildung
2007-2013 Studium der Malerei an der Universität für angewandte Kunst Wien bei Univ. Prof. Johanna Kandl.
2009-2010 Studienaufenthalt in Vilnius, Litauen an der Vilniaus Dailes Akademija bei Konstantinas Bogdanas.
2007 Matura in Wien.
Ausstellungen (Auswahl)
2019 "Women on the Moon" Gruppenausstellung, KKKC,Klaipeda, LT
"You ar here – fragments" Einzelausstellung, Podium, Wien, AUT
2018 "You are here" Einzelausstellung, Kunstfabrik Groß-Siegharts, Niederösterreich, AUT
2017 Art in Process – Process in Art" Gruppenausstellung, Ausstellungsraum Gumpendorferstraße, Wien, AUT
"Forum Biotopia" Kunstfestival, Creau, Wien, AUT
2014 "Zwi(t)sche(r)n" Gruppenausstellung Offspace school, Wien, AUT
2013 "Nachglühen" Diplomausstellung, Universität für angewandte Kunst, Wien, AUT
"Vienna in a Box" Recyclart Studio Marcel, Brüssel, BEL
Born 1988 in Vienna.
Lives and works as a freelance illustrator and graphic artist in Vienna.
Recent Projects include all public-facing illustrations of the 2019/2020 season for the Volkstheater Wien, book and board game illustrations for the Forum Umweltbildung, various editorial illustration projects, as well as corporate design development for businesses
Langauges: German, English
Education
2007-2013 Fine Art/Painting studies at the University of Applied Arts Vienna (Univ. Prof. Johanna Kandl)
2009-2010 Erasmus exchange in Vilnius, Lithuania.
Exhibitions
2019 "Women on the Moon" Group show, KKKC,Klaipeda, LT
"You ar here – fragments" Solo show, Podium, Vienna, AUT
2018 "You are here" Solo show, Kunstfabrik Groß-Siegharts, Lower Austria, AUT
2017 "Art in Process – Process in Art" Group show, Offspace Gumpendorferstraße, Wien, AUT
"Forum Biotopia" Art festival, Creau, Vienna, AUT
2014 "Zwi(t)sche(r)n" Group show, Offspace school, Vienna, AUT
2013 "Nachglühen" Diplomausstellung, University of Applied Arts, Vienna , AUT
"Vienna in a Box", screening, Recyclart Studio Marcel, Brussels, BEL
Amnesty International Österreich
AC Wohnen
B2B Media
Falter Verlag
Falter
Familienzeit
FC Gloria
Ida Rudolph
NÖ Familienland
Style In Progress
UNESCO